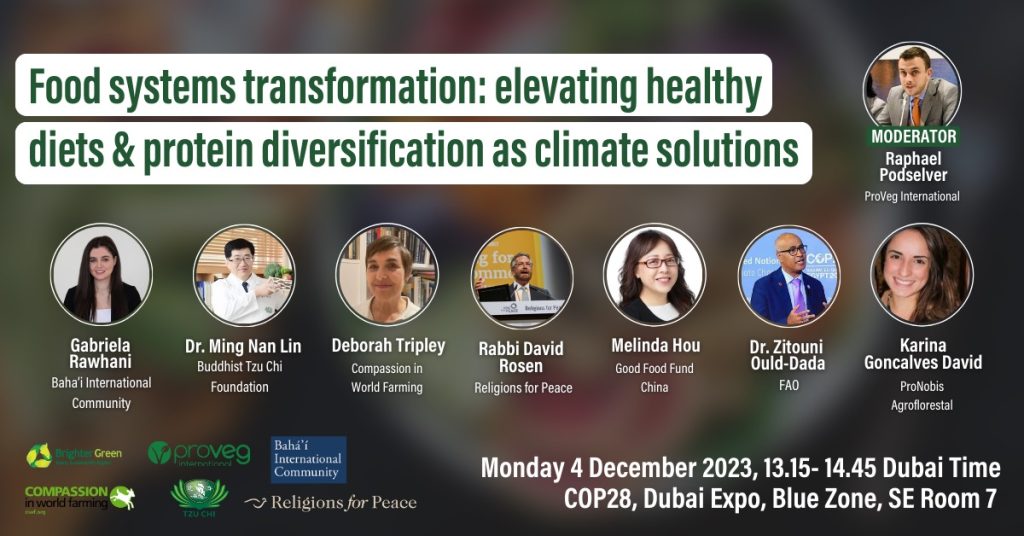 Brighter Green is attending the United Nations' twenty-eighth Conference of the Parties (COP), to be held between November 30 and December 12, 2023, in Dubai, United Arab Emirates.
This year's COP involves the Global Stocktake, a process that measures how each government is (or more likely is not) on track to meet its Nationally Determined Contribution (NDC), a set of targets each nation agreed to at COP21 in Paris in 2015. For COP28, Brighter Green is part of the Food and Climate Action Group, which is urging the Stocktake to feature food systems and animal agriculture more prominently in NDCs. Thanks to the work of youth climate activists, in coalition with other groups (among them Brighter Green), the COP28 presidency has confirmed that, for the first time, two-thirds of the food served at the global summit will be vegan and vegetarian. Special thanks to Caroline Wimberly, former Brighter Green program manager, who is a key part of this effort. For the second year, the Food4Climate Pavilion will be organized at COP28, spotlighting a range of food systems and climate issues spanning production and consumption, animal welfare, biodiversity protection, livelihoods, and public health.
As part of its engagement at COP28, Brighter Green is co-hosting an official side event, entitled "Food Systems Transformation: Elevating Healthy Diets and Protein Diversification as Climate Solutions." The side event will be on Monday December 4, 1:15–2:45 pm local time, in SE Room 7 in the Blue Zone. To watch this side event (and all other side events at COP) click here.
Learn More